About Symposium Cafe Restaurants
You want to know all about us? Gladly. We're proud to share the Symposium story.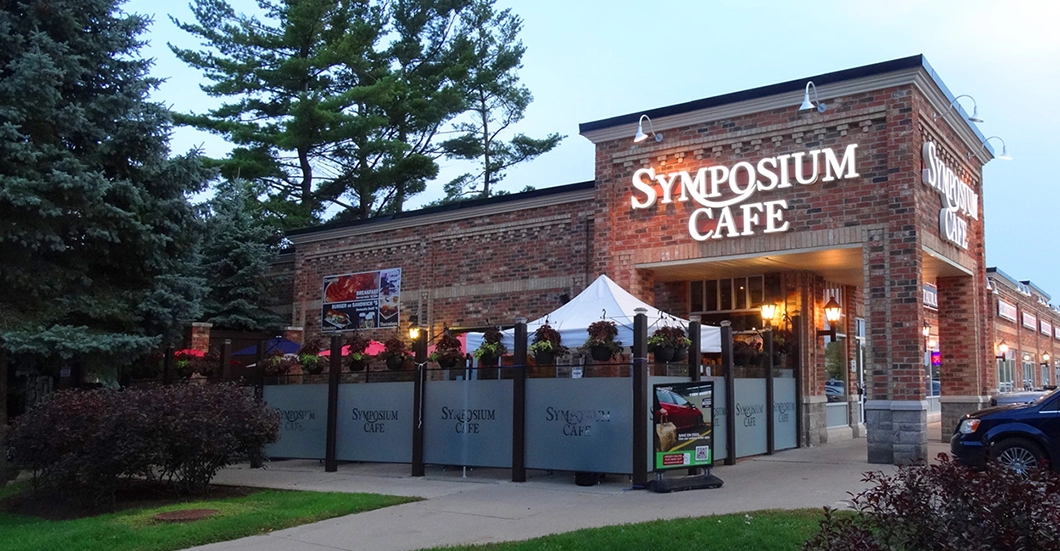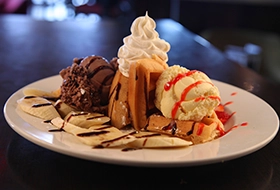 Our Start - Our Menu
The first Symposium Cafe Restaurant opened in 1996 and quickly became the go-to best dessert place for date night, late night and a favourite cafe choice for nearby locals, university students, and families. But our customers wanted more. So, we kept our guest-focussed full service and unique restaurant decor, and then expanded the menu to include breakfast, lunch, dinner, and late night meals - along with full bar service including beer on tap, an extensive wine list and home crafted cocktails. Today, with a menu that includes breakfast, burgers, steak, pasta, seafood, soups, and appetizers, along with a large vegetarian menu selection, we have something for everyone, and menu items for all dining periods.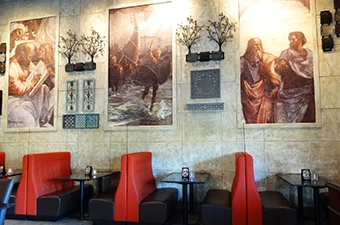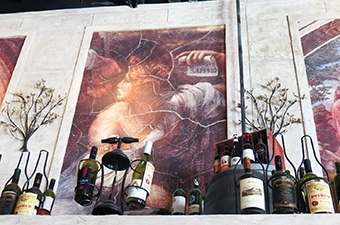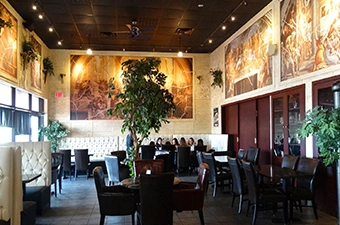 Unique Restaurant Decor
Walk into Symposium Cafe Restaurant and be wowed by our inviting interior with its distinctive decor and unique atmosphere. Our trademark stone-art walls and beautiful Renaissance inspired frescoes are one-of-a-kind, and with their timeless quality provide the perfect backdrop for any restaurant dining experience: from burgers & beer to salmon & sauvignon. We're what you'd call upscale casual- special enough for engagements, birthdays, or business meetings, and just as fitting for quick take-out meal after work, dinner before a movie, or appetizers at the bar.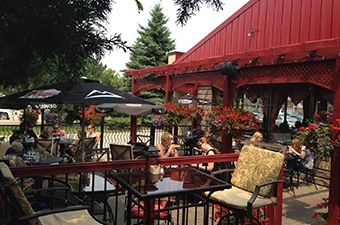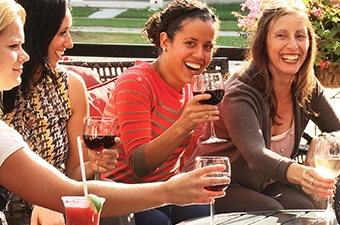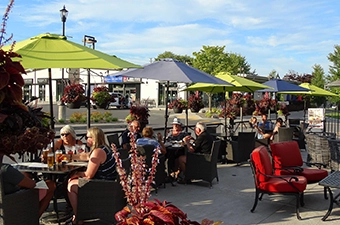 When Patio Season is on, our Symposium Cafe Patio is a great place to get together for outdoor dining. Large and spacious, with colourful umbrellas and lush greenery, our restaurant patios are a favourite dining spot for local guests and visitors. Join us for an outdoor breakfast brunch with bubbly mimosas, a sunny family get together sharing appetizers and cocktails, or a late night dinner under the patio lights.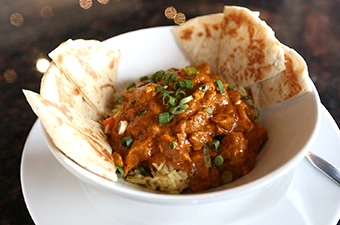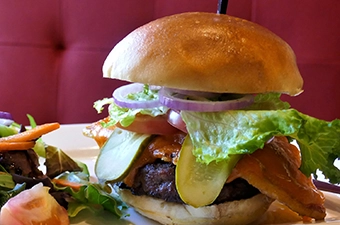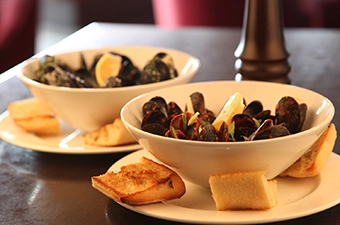 Freshly Made with Quality Food Ingredients
At Symposium restaurants top quality ingredients combine to bring you a taste that's truly homemade. Our culinary team is always working to create the best tasting menu items with a large variety of options including vegetarian meals. Guests love our housemade dressings and sauces that deliciously complement their menu choices.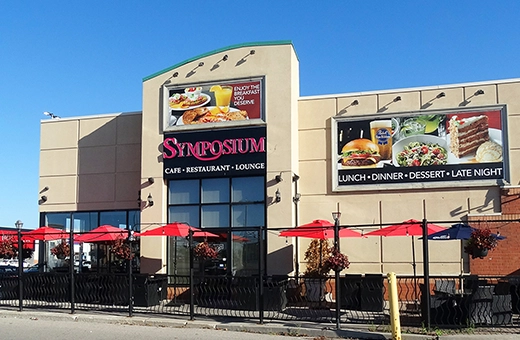 A Symposium Restaurant Near You – 24 Dining Locations
With 24 restaurants in and around the GTA, there's a Symposium Cafe Restaurants location close to you. Family gatherings, dining with friends, or getting take out for the office, Symposium Cafe is your neighbourhood go-to spot for breakfast, dinner, desserts and more. Find your location here: Ajax, Alliston, Ancaster, Aurora, Barrie, Bolton, Brantford, Cambridge, Cobourg, Georgetown, Guelph, Keswick, Lindsay, Markham, Milton, Mississauga, Oakville, Oshawa, Stoney Creek, Thornhill, Waterdown, Waterloo, Whitby, Woodbridge.
We love reading customer restaurant reviews describing Symposium as their "little secret", "unknown gem" or "favourite local restaurant". It's our goal to be the favourite neighbourhood go-to restaurant in all our communities. We know it's our guest-focussed brand of service, along with our quality food that makes us a favourite neighbourhood restaurant and an award winner for best restaurant in local communities. Guest-focussed means our kitchens are open from early morning breakfasts to late night dining (breakfast, brunch, lunch, dinner + late night dining), 364 days a year to fit your schedule.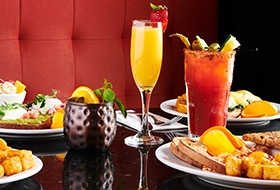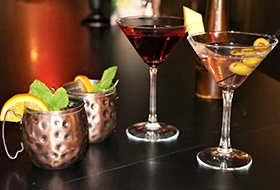 Like a true European cafe, all Symposium locations have a food menu as well as fully licensed bar service with a wide range of wines and spirits. Our wine list offers great tasting vintages and we're always sure to include quality Canadian wines. You'll find our bar service offers a wide selection of draught beer on tap, both domestic and imported as well as a variety of popular cocktails including martini night selections and fruit flavoured drinks – always a hit during patio season under the umbrellas of our comfortable outdoor patios.
Atmosphere
Warm and cosy, pleasant, inviting, friendly, unique, wonderful. When our guests describe Symposium Cafe, these are just a few of the words they use. Along with the distinctive decor at your local Symposium restaurant that provides a beautiful backdrop for dining, it's the guest-focussed service and welcoming casual atmosphere that add to make Symposium Cafe a favourite dine in spot for all occasions. Family friendly, with a kids menu and room for big groups, we cater to large get togethers and functions. If you're in the mood for more intimate dining, choose one of our cosy booths for your special dinner out.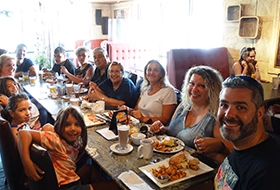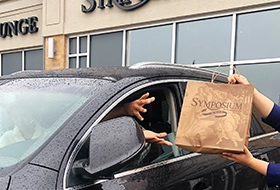 Need Take-Out to enjoy your favourite Symposium menu items at home? Order through our online app for take out food or call in your pick-up order and we'll bring it to you curbside. Prefer delivery? We're partnered with Uber Eats, Skip the Dishes, DoorDash and other local apps so you can order in breakfast to the office with Uber Eats, have soup & sandwich delivery for lunch with Skip the Dishes, or order dessert with DoorDash when you're craving something sweet and delicious.
Restaurant Features & Promotions
Guests love our Symposium Daily Features, and if you enjoy dining out daily, our extensive menu ensures that you'll find a wide variety of dining options. Drop in for an Early Bird Breakfast Special or visit us for Happy Hour Wine and Beer Specials with Appetizer Deals. Every day of the week there's a dining deal at Symposium Restaurant including Vegetarian Features, Martini & Mussels Nights, Date Night and Kids Eat Free Sundays.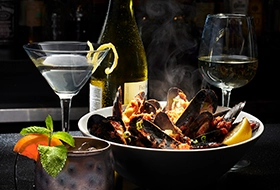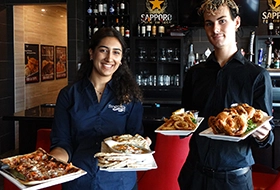 Restaurant Reviews
With over 20,000 five and four star reviews, our guests keep reminding us of what they love about Symposium Cafe Restaurants. Our mission is to offer quality, value and guest focused service, and the acknowledgement and positive comments confirm that we're on the right track.
Support & Community Involvement
Giving back has always been important to us. Every Symposium Restaurant has, as part of its goals, to be an active member of their community. The Symposium Charity division supports local neighbourhood groups as well as teams of all types. Nationally and internationally Symposium Cafe has greatly supported Breast Cancer Research in Canada as well as World Vision across the globe.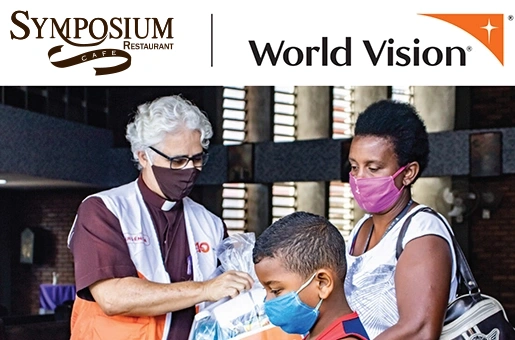 Come on Over
So that's what we're about. We're glad you've gotten to know us and we look forward to your next visit. Whether it's sharing appetizers with friends, family dining, special occasions, or business lunches; we've got something for you - 7 days a week - from early mornings to late nights. We're proud to be your "go-to" local restaurant for quality, casual dining, and invite you to experience the warmth and hospitality of our Symposium style.