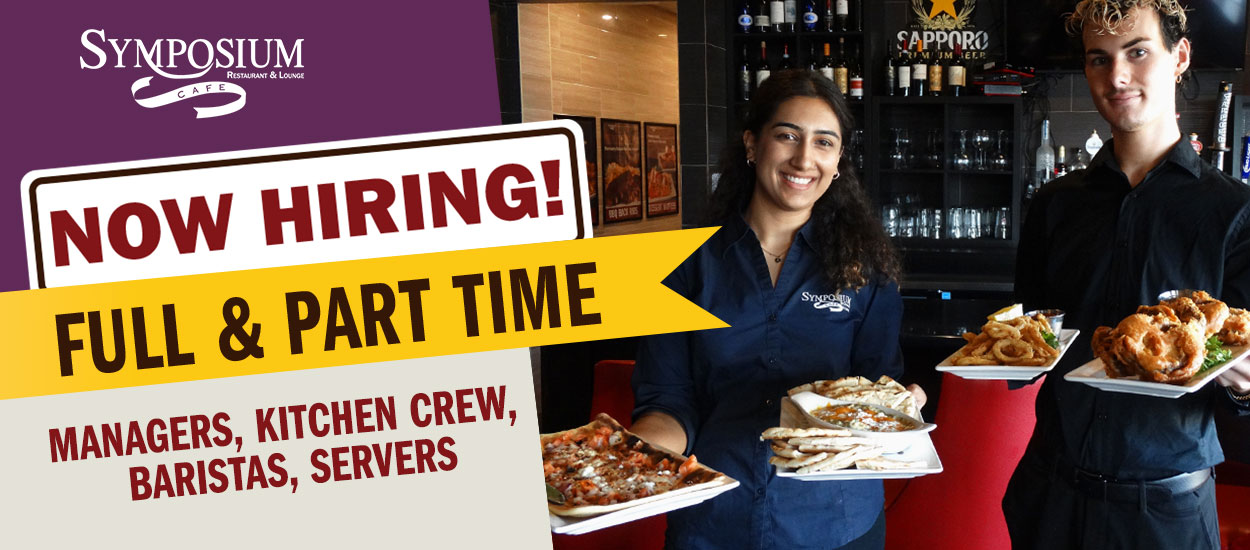 About Symposium Restaurants
An upscale casual dining restaurant and bar, serving gourmet comfort food and a popular all day food and drinks menu in a stylish place with a Renaissance theme, that's Symposium. With 24 restaurants in and around the GTA, there's a Symposium Cafe Restaurant location close to you: Ajax, Alliston, Ancaster, Aurora, Barrie, Bolton, Brantford, Cambridge, Cobourg, Georgetown, Guelph, Keswick, Lindsay, Markham, Milton, Mississauga, Oakville, Oshawa, Stoney Creek, Thornhill, Waterdown, Waterloo, Whitby, Woodbridge.
Current Restaurant Job Opportunities
Thank you for your interest in working for Symposium Cafe Restaurants. Most restaurant locations are looking for Waiters and Waitresses, Cooks, Chefs, supervisors and store management positions. Whether you are starting your first job, entering your path to leadership, or want a great place to work, we are committed to investing in your development and growth.
Experience is always helpful, but we'll hire for attitude and provide training if you're the right candidate. We're looking for enthusiastic, responsible individuals who enjoy the social interaction and energy of a restaurant environment. If this is you, we'd love to have you on our team.
Symposium Restaurants is an Equal Opportunity Employer
At Symposium Restaurants we pledge to not discriminate against employees based on race, color, religion, sex, national origin, age, disability or genetic information.
Symposium Restaurants Interview Process
Interviews are conducted in person or through video conference call, and you will always have the opportunity to ask questions in an interview. Our email domain is "[email protected]". For example, [email protected]. We will never provide you with an offer letter without personally meeting with you and we will never request that you provide us with any funds to pay for your training.